ATI SuperConference 2022 attendees collectively raised $57,000 for the Santa Monica, CA-based mikeroweworks Foundation. Over the past two SuperConferences, ATI members have generously donated a grand total of $117,000 to the organization. The mikeroweworks Foundation helps contribute millions of dollars in scholarships to qualified recipients pursuing a career in the skilled trades, including the automotive industry.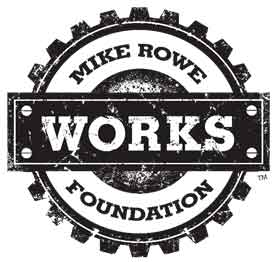 Mike Rowe, best known as the creator and host of the iconic TV series Dirty Jobs, launched the mikeroweWORKS Foundation in 2008 to put in motion a national PR campaign for skilled labor.
"Our crumbling infrastructure, our widening skills gap, the disappearance of vocational education, and the stratospheric rise in college tuition—these are not problems," Mike said. "These are symptoms of what we value. And right now, we have to reconnect the average American with the value of a skilled workforce. Only then, will the next generation aspire to do the work at hand."
ATI recognizes the impact that the skilled trade shortage is having on the tech candidate pool in the automotive industry. Supporting mikeroweworks along with launching new tech training and mentoring programs are some of the ways ATI is addressing it.
"We interview dozens of charities each year," said ATI President Richard Menneg. "The mikeroweworks Foundation stood out the most because we share a common goal. It hits home for ATI's mission to provide more career growth opportunities for emerging trade professionals while helping to alleviate the auto industry's tech shortage by developing more candidates."
According to the U.S. Bureau of Labor Statistics, automotive and independent automotive repair facilities will create the most job opportunities. Each year, America's technical colleges and training programs graduate nearly 37,000 new technicians. With proper education and training, the auto shop industry can expect good job prospects. The mikeroweworks Foundation plays an essential role in filling the annual shortage gap of thousands of technicians in the auto industry.
To learn more about the mikeroweworks Foundation, visit www.mikeroweworks.org
About the mikerowe
works

Foundation

The mikeroweworks Foundation is a 501(c)(3) public charity that works hard to debunk myths and misperceptions about the trades and help close the skills gap. As the country's leading advocate for the skilled trades and founder of the mikeroweworks Foundation, Mike Rowe speaks regularly about the country's dysfunctional relationship with work and challenges the persistent belief that a four-year degree is automatically the best path for the most people. The mikeroweworks Foundation provides financial assistance to people getting trained for skilled jobs through its annual Work Ethic Scholarship Program. Since its inception, mikeroweworks has helped grant or facilitated the granting of, more than $5 million in support of technical and vocational education.