Each year at SuperConference, we select a locally based charity to raise awareness and money for their organization. If you have already attended a SuperConference, you have seen first-hand the incredible impact our members have made. Many of you have asked us over the years to support a charity that helps our industry. You have asked, and we have delivered.
We're excited to introduce our SuperConference 2020 Charity: the mikeroweworks Foundation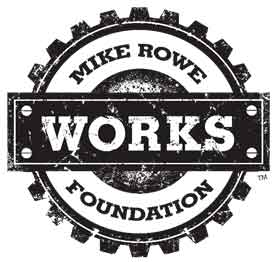 mikeroweWORKS Foundation
The mikeroweworks Foundation works hard to debunk myths and misperceptions about the trades and close the skills gap. As the CEO of the mikeroweWORKS Foundation, Mike Rowe, best known as the creator and host of Discovery Channel's iconic series Dirty Jobs, speaks regularly about the country's dysfunctional relationship with work and challenges the persistent belief that a four-year degree is automatically the best path for most people. The Foundation provides financial assistance to people getting trained for skilled jobs through its Work Ethic Scholarship Program. The Foundation has helped grant, or facilitate the granting of, millions of dollars in work ethic scholarships to qualified recipients.
"America is lending money it doesn't have to kids who can't pay it back to train them for jobs that no longer exist. That's nuts." – Mike Rowe
mikerowe
works

Foundation and SuperConference 2020

According to the U.S. Department of Labor, the automotive industry employs 750,000 service technicians. Just to keep pace with retirement and new jobs in this sector, the industry needs to replace approximately 76,000 technicians each year. Yet new entrants are not keeping up with the pace of demand. Each year, America's technical colleges and training programs graduate about 37,000 new technicians. This leaves an annual shortage of approximately 39,000 technicians. Unless we increase the supply of technicians, the shortage we all feel today will transform into a severe shortage in the next 10 years.

The mikeroweworks Foundation has committed to dedicating the funds we raise at SuperConference to scholarships for deserving recipients entering the automotive repair industry.

Learn more about the mikeroweworks Foundation at www.mikeroweworks.org
How to Donate
If you are arriving at SuperConference 2020 early, please sign up for our Charity Fun Run to benefit the mikeroweworks Foundation. The run will take place on Wednesday morning at 7:15 am and you will receive a commemorative t-shirt. The fee is $30 per person and net proceeds will go to the mikeroweworks Foundation.
Update Your SuperConference 2020 Registration
*Due to his production schedule, Mike Rowe will be unable to attend SuperConference in person.