Each year at ATI's SuperConference, we select a charity local to the community we visit and raise awareness and money for their organization. If you've already attended a SuperConference, you've seen first-hand the incredible impact we have made. We're excited to introduce you to our SuperConference 2019 Charity: Soldiers' Angels.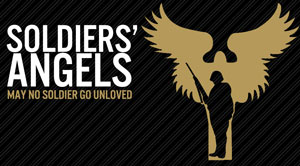 Soldiers' Angels provides aid and comfort to the men and women of the United States Army, Marines, Navy, Air Force, Coast Guard, and their families, and a growing veteran population. Started in 2003 after the tragic events of 9/11, Soldiers' Angels has grown to not only supporting deployed personnel but also their families and veterans of all eras receiving services at VA Hospitals across the country. Through the four program areas of Deployed Support, Family Support, Wounded Support and Veteran Support, Soldiers' Angels has provided over $17 million in aid to over 360,000 service members, veterans, wounded heroes, and military families in 2017 alone. Thousands of Soldiers' Angels "Angel" volunteers support our brave men and women in uniform who are fighting for freedom in a variety of unique and effective ways.
Donate with ATI: Collect Socks in Your Shop
Believe it or not, one of the items most requested from service members and veterans is socks! Just think of how nice a brand new pair of socks feel when you slip your feet in…
Soldiers' Angels wants to help keep our troops and veterans toes feeling toasty, and you can help! Start a sock collection drive & send us new socks in all colors and sizes in their original packaging. We will distribute the socks to veterans in VA Hospitals and include in our care packages to deployed.
Don't worry, we know there are regulations for the type of socks our troops wear when in uniform, but they request socks to wear when out of uniform — so really, any kind of sock will do! Visit Soldiers' Angels for more details.
Donate socks one of two ways:
If you are attending an ATI class between February and May 2019, bring your sock donations to ATI Headquarters.
Send socks donations directly to:
Soldiers' Angels–Warm Feet for Warriors
2700 NE Loop 410, Suite 310
San Antonio, Texas 78217
ATI's SuperConference 2019 Charity Fun Run
If you are attending SuperConference 2019 (in San Antonio, March 20-23, 2019) and arriving early, please sign up for our Charity Fun Run to benefit Soldiers' Angels. The run will take place on Wednesday morning at 7:15 am and you will receive a commemorative t-shirt. The fee is $30 per person and net proceeds will go to Soldiers' Angels. You will need to update your SuperConference 2019 registration to participate.